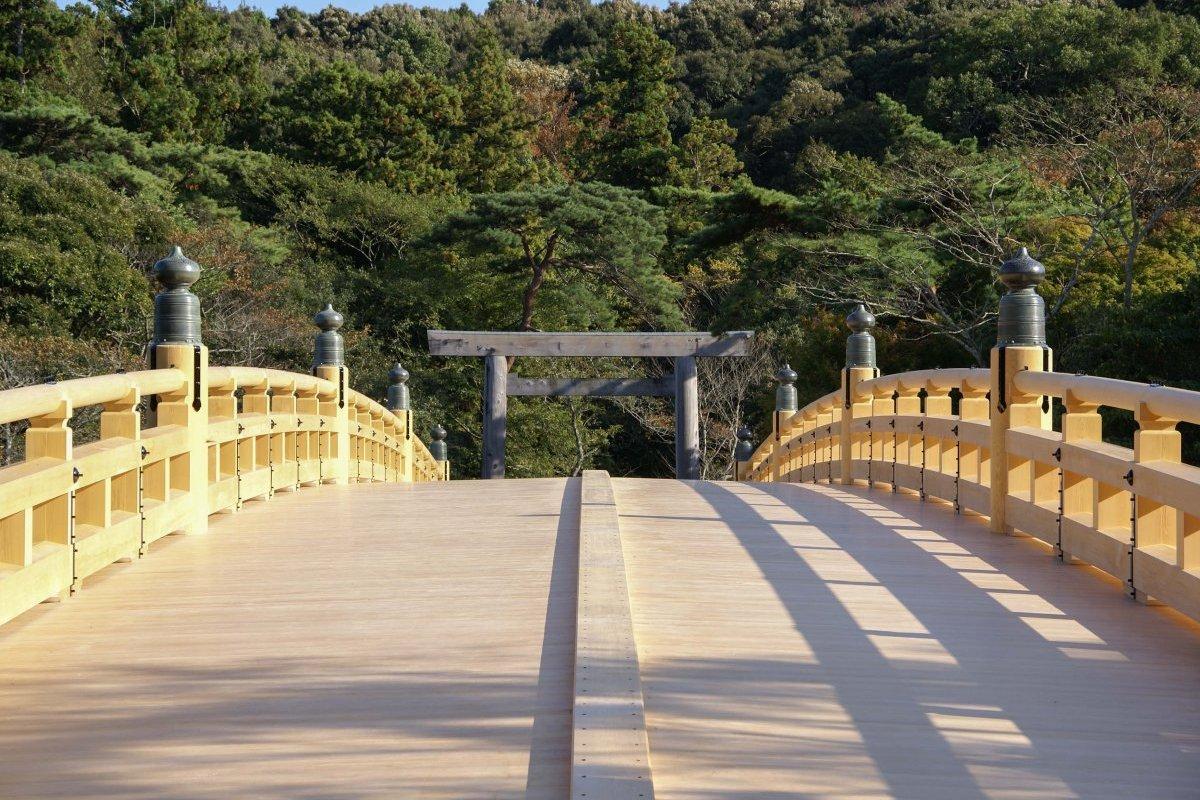 About Iseshima
Ise Jingu
A sober shrine which stands in the immense forest is well-loved by people from all over the country that they gather, hoping to "worship at least once in their life time".
It is consist of 125 large and small Shinto Shrines (Jinja) which are scattered throughout the region, and above all the two most famous ones are "Naiku" and "Geku".

The "Uji Bridge" at the entrance of Naiku is a large bridge made of Japanese cypress beyond compression in Japan which is said to connect secular and sacred worlds.
A big 700-year-old Japanese cedar tree rises in the approach, creating the sublime atmosphere of entering a sanctuary.

When talking about attractiveness of Ise Jingu, you must talk about "Oharai-machi" and "Okage-yokocho" where you can enjoy shopping and a delicious gourmet selection.
While strolling along the beautiful stone pavement, which runs down about 800 meters along the Isuzu River in Oharai-machi, you can enjoy historical buildings and the unique atmosphere of Ise.

In Okage-yokocho, there are many restaurants and souvenir shops which recall the historical atmospheres of the Edo era to Meiji era, stores which offer "Iseudon" (noodles), which is a soul food of Ise, the main store of "Akafuku" which started its business in 1707, and many other well-established stores and famous specialties.
Nature
Shima Peninsula is a national treasury of beautiful beaches and "Goza Shirahama" is a beautiful white sand beach facing the Pacific Ocean where the waters are shallow with exceptionally transparent water.

The "Shima nature school" offers programs to enjoy the nature of the sea and satoyama (woods that are located near human habitation and regularly cared for by human beings) and you can enjoy interacting with the history, culture, and nature of the Shima Peninsula through sea kayaking, playing in a water ball, and cycling guided tours.

The views of the archipelago from "Yokoyama-tenboudai" (an observatory) allow you to see the entirety of Ago Bay in panorama, and the sunrise from "Futami Meoto-iwa", which has been a place of purification for people before visiting Ise Jingu to worship since ancient times are absolutely magnificent.

Iseshima is full of beautiful scenic views such as the stunning evening sky over Ago Bay from "Tomoyama-tenboudai" and the heart-shape fleet that you can see from "Mieshima-tenboudai."
If you want to enjoy the landscapes from a window of a train, the Kintetsu Premium Express "Shimakaze" connects cities like Nagoya, Osaka, or Kyoto to Iseshima, is famous for its private compartments and a cafe car, and a sightseeing train "Tsudoi," which runs between Iseshi station and Kashikojima station, with seats facing the windows of the train are recommended.

Shima Nature School
Futami Okitama Shraine and Meotoiwa
Yokoyama observation deck
Mieshima Tnbo Park【heart-shaped bay】
Local Foods
Throughout the whole year, many gourmet lovers visit Iseshima for its delicious seasonal foods.
Two of the best seasonal foods are "Ise spiny lobster" and "Anori fugu" (tiger blowfish).

You can enjoy the Ise spiny lobster in various ways such as freshly sliced raw fish arranged to look lifelike that you can enjoy its sweetness, tile-grilled, or in miso soup- an extravagant way of eating Ise spiny lobster.

Anori fugu, the natural tiger blowfish, is a signature winter food in Shima. Many people travel long distances to Shima, craving the taste of it.

"Satoumi" (coastal area where biological productivity and biodiversity are increased through human interaction) at the coastal bay which is rich in nutrients is a sacred place for oysters which come into season in the winter, and the "Matoya oyster" is rich in its sweetness and not too sour so it is recommended to eat while it is fresh. Gourmet lovers are truly fascinated by the rich taste of thick "Abalone" that Ama catch with the traditional fishing method.

If you love meat, you must try "Matsusaka beef", the brand beef of Iseshima. Its fine flesh with beautiful marbling of the fat is exquisite.
It is served in various ways like shabushabu style, sukiyaki, or as a steak.

Each store that makes "Iseudon", a soul food of Ise, is particular about the noodles that they make, and the harmony of "koshian" (strained sweet red beans) and rice cake of the popular souvenir of "Akafuku" is absolutely perfect and it has been the favorite of Japanese people for more than 300 years.
When you want to have a break at a hotel or during your trip, you should enjoy them as well.
Must-See Attractions
"Toba Aquarium" is best known for being the only aquarium in Japan to rear a dugong, and to accommodate the largest number of different species exclusive to Toba Aquarium, as well as many other creatures. The aquarium is divided into 12 different themes that you can explore as you feel like.

"Parque Espana" is a theme park filled with the charm of Spain and a bright and cheerful atmosphere, featuring attractions such as Spanish townscapes. Not only are the buildings replicated with precision and full of attractions, but the park also features authentic Spanish foods.

"Mikimoto Pearl Island" is the birthplace of the world famous Mikimoto Pearls. You can enjoy the beauty of real pearls and discover gorgeous souvenirs. You can also see the pearl-diving through the demonstrations performed by Ama (professional female divers).

Along the beach of Toba and Shima, you can see Ama fishing using the traditional method used historically for more than 2,000 years, and Ama Hut (locally called "Kamado") experience is a popular attraction where you can sit down with currently active Ama around an Irori (open fireplace) and enjoy a fresh seafood lunch.

In Toshijima Island and Kamishima Island, both a 10 to 40 minutes trip by ship from Toba Marine Terminal, the beauty of untouched nature and landscapes that you can only find in isolated islands fascinate you.

Recommended Articles